Once we'd got rid of the hire car, we experienced the airport-style luggage check-in, and got on board the ferry.
We go to Jura every year, so I always compare ferries abroad with CalMac. My usual joke is that only CalMac serves a mac-and-cheese. But the Islander did too! No Islay ales though.
The ferry was packed. We eased out past the QE2 and another cruise ship, and made our way through the islands, and the short hop over Cook Strait across to the Sound and the islands at the north of the South island. It was to all intents and purposes a mini cruise: gorgeous scenery, albeit cold outside. There was a southerly wind, and we had to keep remembering that these winds are cold in the southern hemisphere; north winds are the warm ones.
On landing, I hurtled off to be first in the queue to get the new hire car, which was identical to the old one and counted as part of the same hire, so the paperwork was minimal. Luggage collected from the carousel, and sat-nav set, and we were off over a windy road to our absolutely superb B&B in Nelson.
We checked in and went for a long walk round the beautiful town and its marina, and then burgers and beers. Everything was quiet and clean.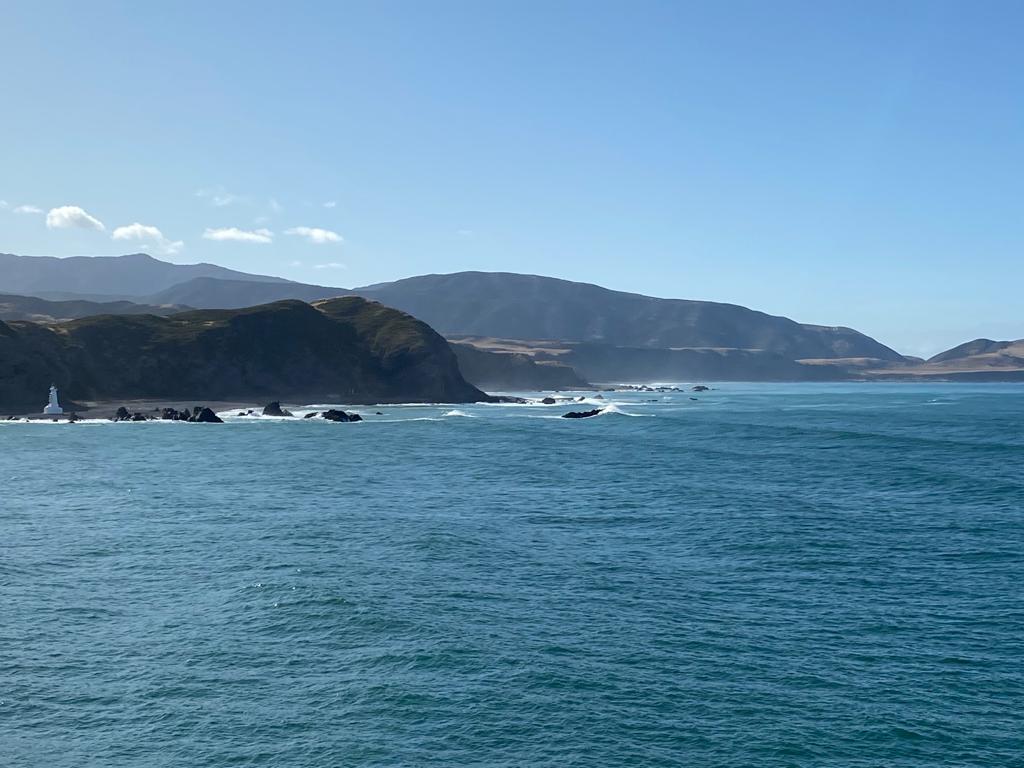 The next day was the Abel Tasman national park. There are various trips available. A young couple at our B&B were doing kayaking and a walk. We had opted for the boat trip up to the very tip, then back a little way and a walk down – around an hour or so – to a beach to wait for the pick-up.
We had a very light early breakfast in the B&B and drove up to Kaiteriteri where our boat departed from, along with several other tours. The trip up the coast was beautiful, and the commentary was entertaining and informative. What looked like dead trees were an invasive species (Nova Scotia Pines) that was being deliberately killed off. They were also getting rid of some non-indigenous wildlife that had been introduced in a well-meaning but not-thought-through manner (for example stoats to get rid of rabbits, but which instead lived off bird eggs which were easier to catch).
At the very top we had to wait while a very laid-back family made their way on board, went back to get their luggage and a child, and then generally faffed around. We got off at Tonga Quarry and walked through the edge of the rainforest – up and down, on a very rough track that was sometimes very steep – to Medland Bay to wait for our boat. (Once again I turned into a lobster). On the walk were warning signs of what to do in the event of a tsunami – go uphill.
The boats here drove straight up the sand and unfolded a gangway out in front. It was fascinating to watch.
We had fish and chips at Kaiteriteri, and went back to our B&B, feeling we'd had a bit of a wild outdoors adventure.
The journey back over those windy roads to Blenheim, the centre of Marlborough wine country, didn't take long. We got checked into our lodge, and had a brief stroll round the complex. Most of the lodges here were actually owned by people, and we met one older couple from Kansas and who here rather than the more usual Florida. We talked Scotland and possible independence, but didn't mention Trump.
At Nelson, we'd been told about the Omaka Aviation Heritage centre, so we went there. The displays – covering the first and second world wars – had been designed by Peter Jackson, and had the same feel as the Gallipoli exhibition at Te Papa in Wellington. I found it fascinating, particularly an early flying boat that looked just like an actual boat with wings stuck on. Some of the exhibits were particularly compelling, including one where Baron von Richtofen lay dying beside his crash-landed plane, and UK and French soldiers were cutting souvenirs from the plane rather than trying to save his life.
That evening we went to the local Rotary for a lovely dinner and conversations – one of the joys of being a Rotarian is that you can do this sort of thing, and mingle with locals. Many were ex-pats, of course. One still had his Dundee accent after 22 years here; it turned out he used to live a couple of hundred yards along from us in Broughty Ferry, and knew the man who used to own our house. Small world.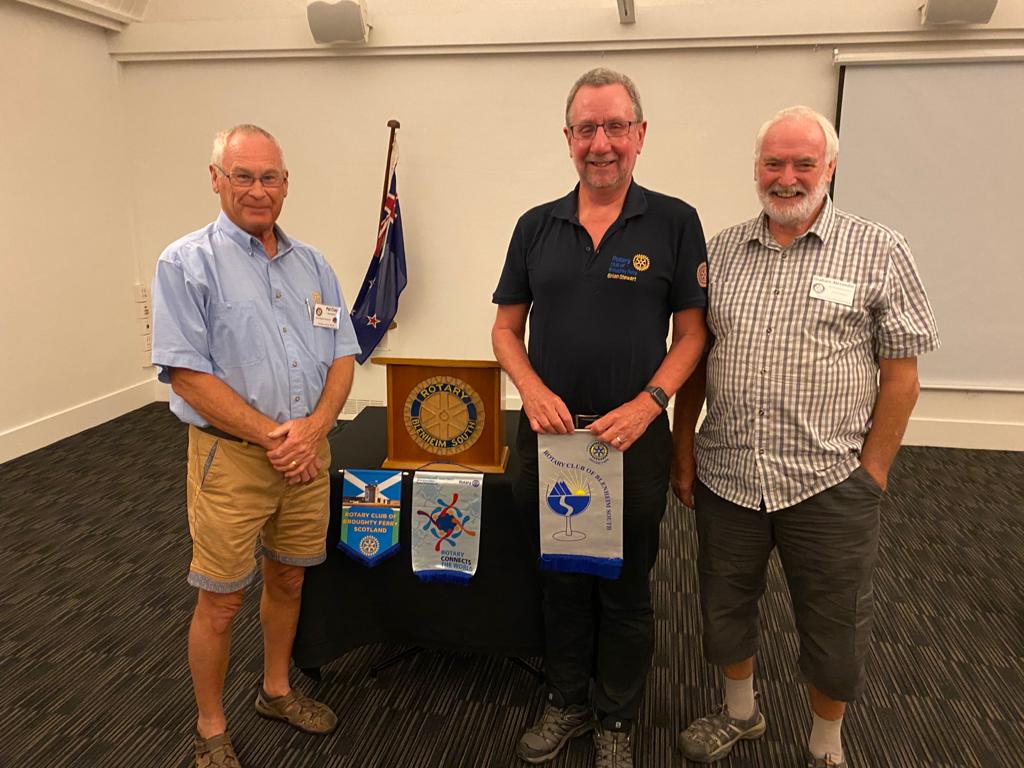 Next day was our bicycle wine-tasting tour. We were picked up and driven a few kilometres along the road to the starting point, where we found one of the Rotarians from the evening before working for the company. We were briefed, and met our group: us, a young couple from London, and a guy originally from Dumfries and Galloway but had lived in Oz for years, and was now touring around. He was a mining engineer to trade, working north of Perth, but now ran a company marketing e-cigarettes. He could live out of any hotel room in the world, so long as he had Wi-Fi or a good 4G signal. What a lifestyle!
The whole countryside around there is flat, and most of the cycling was off-road, so it was fairly relaxing. The wineries were all welcoming, and the explanations good. Tastings were very small, but there were a hell of a lot of them. Our guide Hamish was very knowledgeable too – an ex-pat Scot, as you probably guessed.
The big surprise was how preferences have changed. Riesling, the height of sophistication in the 70s and never touched again, is back and it's brilliant. There is a variety of wine called Pinot Gris. And Pinot Noir Rose is great too! There is a lot of relatively low alcohol wines – nine or ten per cent – which are favoured for lunchtime drinking (we'd seen that in Canada too). We eventually bought a bottle (of Rose).
Next day was across and down the coast to Kaikura. The Rotarians had told us the journey would be slow because of all the repairs needed after the earthquake. What earthquake, we asked.
Well, in 2016 there was a huge earthquake centred on the Kaikura peninsula. Tracts of land shifted upwards, and the whole of South island moved slightly north. The peninsula's road and rail links were severed. 'Only' two people were killed, though, and neither of them were Brits, which is why it never figured much on the UK news – we had other things bothering us at the time, including all those celebrities dying.
The railway is now fine, but there are still massive roadworks. The government had hastily built temporary roads, but had cut across sacred Maori lands ay opne bit, and there was a bit of unrest about that.
We explored the town and the pub grub, but we were really there for the whale-watching tour. My wife had suggested – six months before we travelled – that we should get this tour booked. I was scathing. It turned out we struggled to get a booking! We picked an available time, and asked to be put on standby for the time we really wanted. Phew!
The trip was fantastic. A really fast boat out to sea, which was a bit stomach-churning – one of those 'focus on the horizon' journeys – but we were rewarded with spectacular sightings of whales. I never tire of looking at them.
We saw seals on land too, and cruise ship passengers stumbling around.
After another night there, we drove on to reach Christchurch for the first time, and walked into town through the parks and gardens. It is an astonishingly English city, from the public schoolboys' uniforms, to its River Avon and the punts on it, and the pubs – one with a Morris Minor pickup inside. A little tram trundles round the compact city centre.
The effects of the 2011 earthquake are still all too apparent. There were many small ones in 2010, but the big one in 2011 did the damage. The cathedral still gapes. Many sites are not yet rebuilt – new building regulations are slowing things down and there are complaints about the government's response.
One hundred and eighty-five people lost their lives in the big earthquake, almost all of them in two buildings which collapsed. There is now a legal case against the company which built one of those. There is an outdoor display of one hundred and eighty-five empty white chairs (which apparently is a common theme these days).
We had beers and fish and chips. After being caught out again with happy hour, I questioned the barman. It seems that only some beers are on the happy hour deal in pubs. Some barmen point out which ones. Some don't, especially when they are serving an obvious tourist.
In the park, on our way back to the hotel, there was music playing: classical then rock, and fireworks. What a lovely place to live, we thought.
We'd got rid of the hire car. Tomorrow was the train.
Greymouth, the glaciers, and Queenstown
The Transalpine is reckoned to be one of the world's most scenic railway journeys, cutting across the South Island over the alps.
Kiwi Rail is pretty much run as a tourist industry, and has big US-style diesel engines, and at least one open-sided observation carriage where people huddle together, fight for a space at the front, and despair at the arm-spreaders who take up too much room.
Inside, the seats are very comfortable. We ate sandwiches and drank coffee from the wee cafe bar, and just enjoyed it all scrolling past. A map on the wall showed where we were, and there was an audio commentary. It was good to have a long spell without driving.
As we rolled to a halt in Greymouth, I ran off to the queue for the car hire while my wife queued for the luggage coming out of the baggage car.
The hire car place was tucked away in a corner of the station. This was officially a 'new' hire, so everything had to be done afresh for everybody. The queue built up behind me, and there were the usual customers who wanted to chat about their holiday and ask for restaurant recommendations. (We already had insurance for excess cover on hire cars worldwide, but were persuaded to buy extra puncture coverage – I agreed, twice, and still feel suckered.)
As we finally had the cases loaded and the sat-nav programmed (this car was identical to the previous two), we headed south. Then turned round, went back, and headed south a different way because I'd gone wrong at a junction.
The sky was dark grey, and soon the wind picked up and the rain started lashing down.
Some of the road had been blocked with land slips the previous November, and we could see the remnants of this: speed restrictions and roadworks everywhere. The Kiwis had done an amazing job of getting the road open at all.
We stopped at the odd beauty spot and stood in the rain looking into the mist, picturing what we'd been told was a wonderful view, then back in the car.
It was a long slow drive to Fox Glacier and our accommodation. With the rain still lashing down, we drove to the pub for dinner, then back to the room for a relaxing evening.
The next day, the rain had stopped.
The recent rainstorms had closed the roads and tracks up to the glaciers. There was no access to the one at Fox Glacier at all, so we drove back to Frank Josef (which looks a bit like Aviemore) where we parked. The track was open as far as a viewpoint looking up the valley to the end wall of the glacier, but no further.
We love glaciers, and we've seen a fair few. We could see the tongue of this glacier away in the distance, with a definite pink/brown tinge to it from the Australian bushfire ash. A sign told us that where we were standing was where the glacier reached a hundred years ago. If the world doesn't get its act together, it'll soon be gone altogether.
Back to Fox Glacier and a walk round Lake Matheson, famous for its mirror views. But they weren't working today.
We headed into the mountains with the sun shining once again. There were beautiful lakes, and stunning little towns where we stretched our legs and had coffee and snacks.
Then we dropped towards Lake Wakatipu, brightly lit and nestling amongst the mountains. Curving round its shore was Queenstown. The lake was populated with boats of all sizes, and there were aircraft taking off and climbing rapidly.
The hotel was a bit of a building site – any views of the lake were blocked by scaffolding, and we heard several customers complaining. The underground car park was tight, with a very steep driveway down to it. Our room was a huge one-bedroom apartment but with a tiny little bathroom and a shower door that hit the flooring. Designers, eh?
We had a quick trip into the town centre and a walk by the lakeside. There were loads of restaurants and boat activities, and it's obviously a place where people come to do sporty things.
One reason we were here was to meet another Jura pal of my wife's, who had come out for a year to do ski instruction and was still here with a partner and a very active young son. Her dad and step-mum, whom we knew, were visiting.
The house is in a small estate that looks down a valley which has a river where you could do white-water rafting if you were that way inclined. We sat outside with beers, and got to know more about the lifestyle here; outdoors, doing things, complaining about the traffic lights and the tourists in 'busy' Queenstown.
When the man of the house got home – boots and socks off (many Kiwis go around barefoot) – there were lamb chops for dinner, with more beers. At this point I should confess that I'm not a lamb fan; somewhere in my youth I had tough, fatty roast lamb. But at the Rotary dinner in Blenheim, and here, the chops were delicious. I haven't tried them since we got home, right enough.
Next day we were taken on a tour by the dad and step-mum on another gloriously sunny day.
We went out to Kelvin Heights and walked round the peninsula that houses the golf course – seeing other walkers and cyclists – followed by coffee in the clubhouse. We went up to Coronet Peak which is a ski resort in the winter (albeit with snow machines) and marvelled at the view back over the lake.
Then it was Arrowtown. This is a wonderful suburb with an olde worlde feel. We walked along the river, admired the shops, and peered into the restaurants. It's a highly desirable place to live – you can get to Queenstown itself on a boat – but obviously the cost of housing here is very high.
We had an ice cream, and I was assured than one scoop was plenty. How right they were. We were joined by my wife's friend and her son – with his bike, racing round the BMX track until he was told we had to go and eat. Beers with dinner, then farewells and back to the hotel.
Next morning – on our own – we went up the Skyline gondola to enjoy splendid views over the city and the lake. One of the mountains we could see is called Ben Lomond, named by an early Scottish shepherd who came out here, obviously feeling homesick and lacking imagination.
There were many activities available at the top, from mountain bike trails to go karting to paragliding off the mountain. We watched several people – each strapped to an instructor – as they floated away down, and wondered whether we were being too cautious. Then I remembered my travel insurance t&cs.
Te Anau, Milford and Doubtful
We had been watching the news over the past three weeks as they fought to re-open the route into Milford Sound. It had been blocked by land slips, rockslides, and flooding rivers. Even cruise ships couldn't come in because of the trees floating around. We found out later that the soil is relatively shallow in the area, so trees entwine their roots with others in order to stabilise themselves and grow. But once one tree goes, it starts a chain reaction – a tree avalanche – followed by the soil cascading down.
But we heard that the next day – despite continuing heavy rain – there were going to be the first trips in, restricted to coaches in a convoy. We were going to be lucky.
So, relieved, we enjoyed our drive out of Queenstown, round the wide valley, to Te Anau. The motel was nice, and the town much prettier than we'd expected. Ever town in New Zealand turned out to be pretty, with everyone sounding happy to live there.
That first evening we went on a tour across Lake Te Anau to the glow-worm caves. We were split into small groups. Ours was given a talk, and then we went into the caves, heads ducked. There were warning red lights for low headroom, and some lighting in places. But the main part of the trip was in total darkness and complete silence.
Once our eyes adjusted, we started to see the little points of light everywhere. It was an amazing spectacle.
The next day, the trip to Milford was on, despite continuing persistent rain there.
Our coach driver – Curlz – had been doing the run for twenty years, and this was obviously her first time in since the blockages. Her commentary was fascinating. 'See that huge rock on the right side of the road? Well last time I came through here it was on the left side.'
I hadn't appreciated that the trip to the Sounds is actually part of the experience. Today we had fewer stops than usual, apparently, and visibility was poor. The journey itself was hairy in places.
One entertainment on the way was a very fast car – who shouldn't have been on the road – who overtook us all very dangerously and sped off. A police car came out of a side road and gave chase. For a long time we could see the police car right behind the manic driver until he eventually stopped him. At one of the road checks further on, Curlz chatted to the people there and were told 'Dwight fined him six hundred and fifty bucks: speeding, tailgating, and failing to stop for a police car'.
We reached Milford and boarded our boat. A TV crew was there to record it all, and we made a fleeting appearance on the news that evening.
The commentary on the boat told us that these pictures of Milford Sound in sunshine are actually atypical. This kind of weather, with waterfalls pouring off the cliffs all around the Sound, is normal and more atmospheric.
The boat trip was shorter than usual, but we were just glad we had managed to have the experience.
Te Anau was dry, and it was beers and an Italian (the same Italian as the previous evening) when we got back!
The next day's trip to Doubtful Sound was different. The weather was dry, and getting there was more complicated. We took a small bus to lake Manapouri, then a boat down it, onto a bus over the pass, and the longer cruise on the Sound, right out to the entrance to Tasman Sea.
It was rough at the end of the Sound. One passenger was attempting to carry two cups of coffee, was thrown off balance by turbulence, and spilt the lot. We chatted to a couple from our motel who had been teachers in England, so there was some work talk.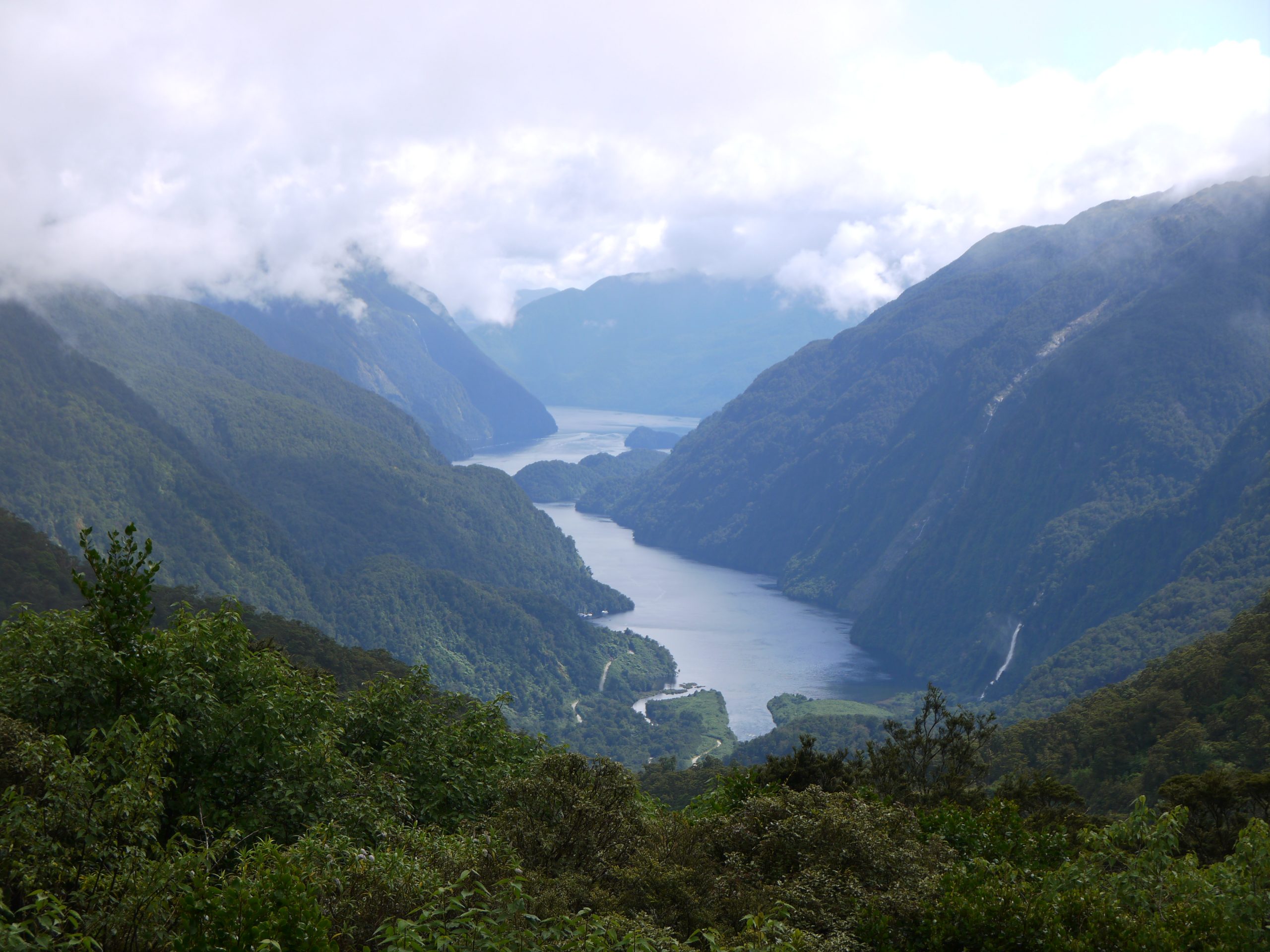 Lunchbox meals supplied for both the cruises were excellent, and there was free tea and coffee on board. The boats allowed for great viewing opportunities, though some people were good at getting in the way or pushing through.
We had happy hour beers at night with a barman who told us in advance which beers were on the deal. One happy Scotsman getting a bargain.
We popped into what looked like a sit-in chip shop and ordered the seafood platter for two. It exceeded our expectations!
Dunedin, Tekapo and Christchurch
It was a long drive across the south of the South Island to Dunedin, and the first journey we'd had that we thought was boring – farmland with few stops on our route. It was just a slog to get there.
We stopped at the first coffee place we found – a tiny cafe as part of a shop, that was a bit unprepossessing – and were surprised at how nice it was.
We parked in Dunedin for a walk round, and yes, it's really Edinburgh with the street names and the districts. Beautiful architecture, and the laid-back friendly style we'd seen everywhere.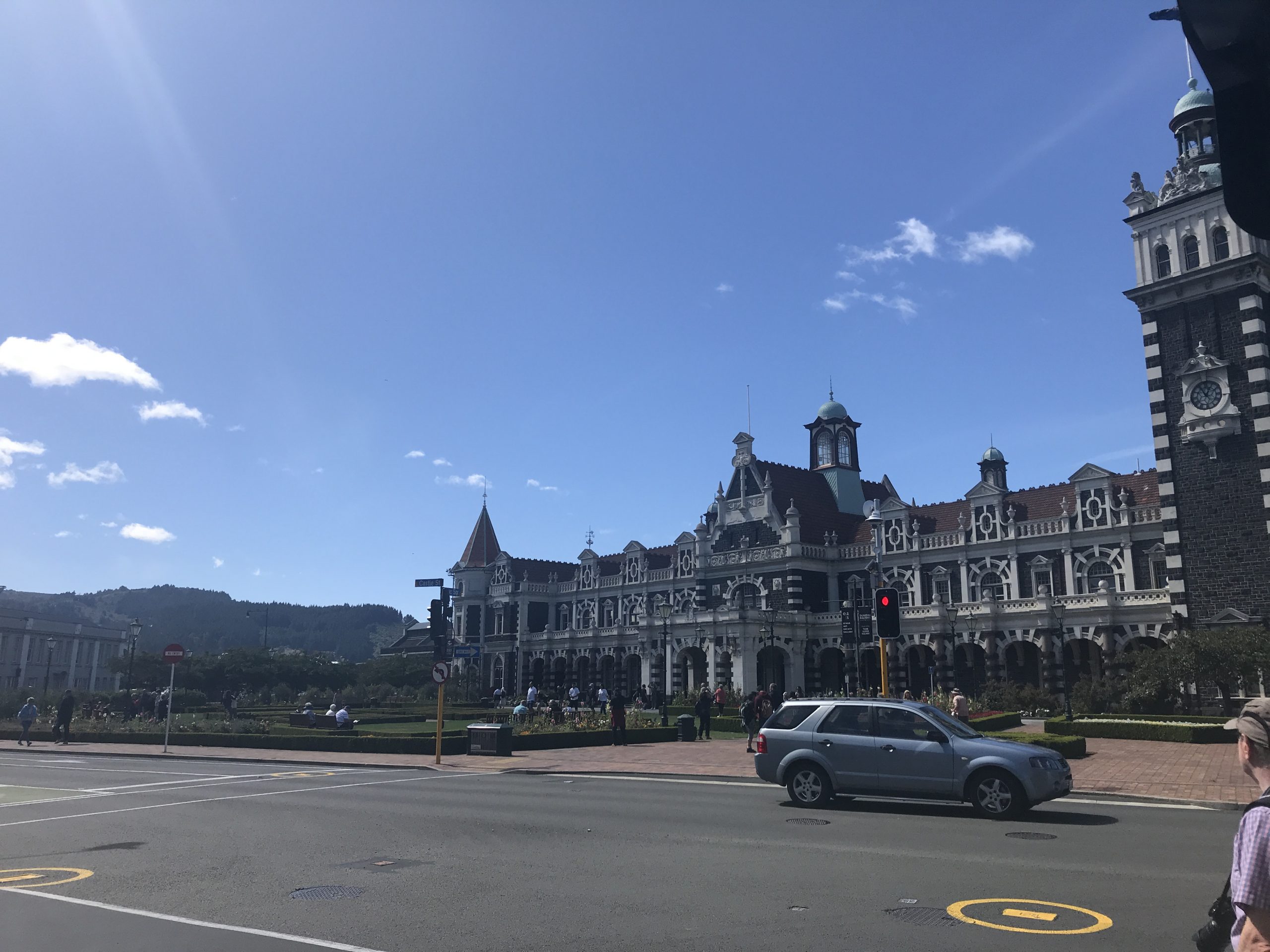 Our hotel was out on the Otago peninsula. The drive round was beautiful, and we found that our hotel was very upmarket. We had a corner room with the most stunning view. Once again we were hardly going to be here. The concierge was originally from Glasgow, so I did the usual joke: what attracted you to this place?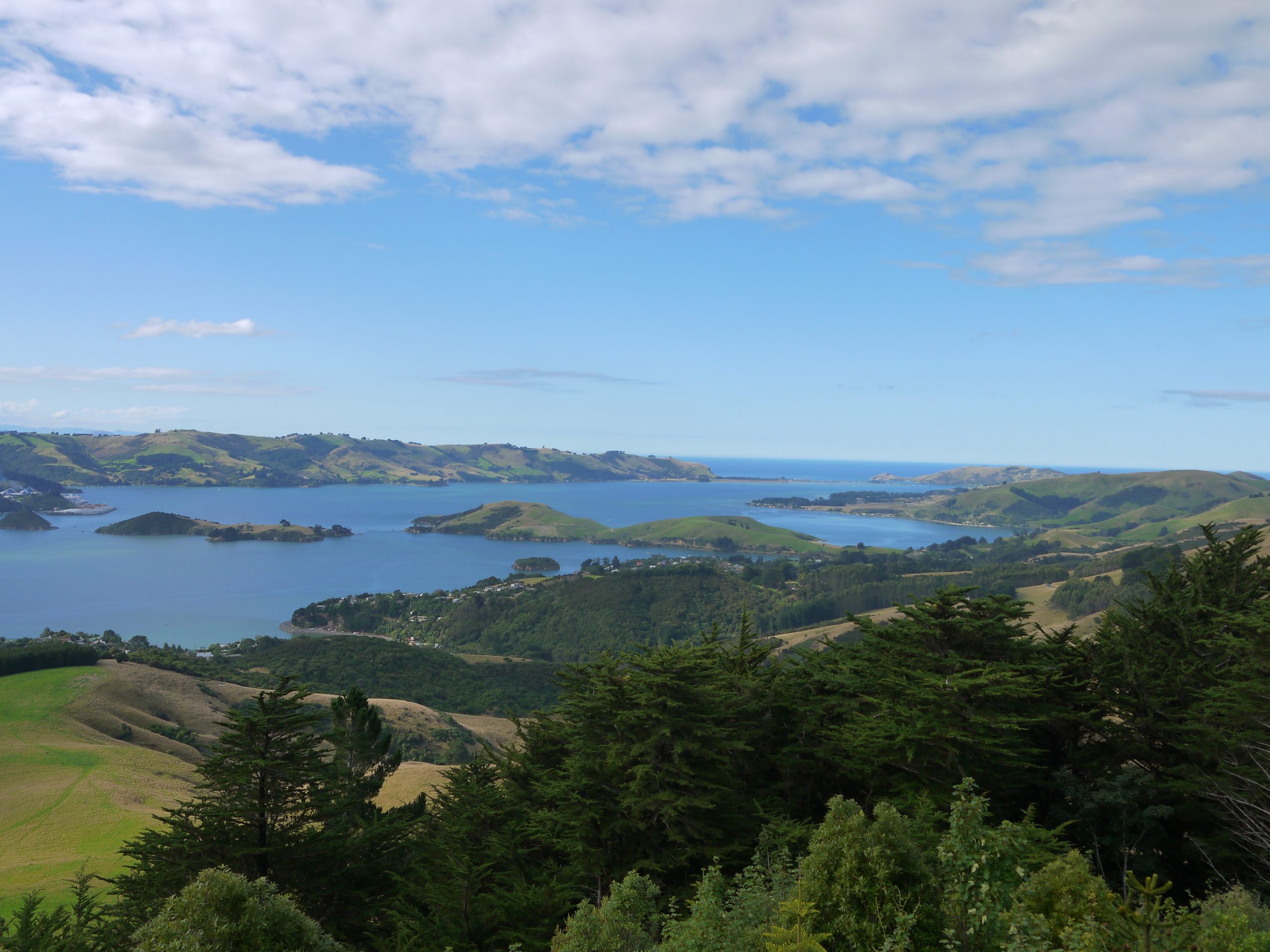 Our evening was out to the wild-life centre, where we watched albatrosses wheeling around, and we had dinner.
The main event was at nightfall, when the little blue penguins come ashore. We were warned to switch off the auto-focus on our cameras as the infra-red disturbs the penguins. As a result, I've got really crappy photographs. My wife's iPhone was much better.
It was necessarily a late night, but so worth it.
We also discovered another fact about New Zealand: it's not as far south as you think. In fact Queenstown is as far south as Bordeaux is north, and the most southerly part – Stewart Island, which we sadly couldn't fit in – is equivalent to halfway up France.
Next day we were off to Lake Tekapo, which reminded us a lot of Lake Louise in British Columbia. In fact, on one leg of the journey we stopped at a viewpoint and a campervan pulled up behind us, the driver and his wife getting out to also admire the view. I mentioned that the scenery looked a lot like BC, where we'd visited. They agreed. They lived in Vancouver.
Check-in was a shambles but we got a free drink out of it, and the room was worth the wait. We explored the visitor centre and decided not to do the evening under the stars event ('if cloudy, this will be held indoors'??). We'd done this at Uluru, and felt that couldn't be topped.
We walked round the lake, had a beer, went to what we thought was a Chinese restaurant but turned out to be Japanese. We went for it on the basis that it was packed with Chinese and Japanese people. Instead of fretting over what to eat, we plumped for the mixed sushi box, washed down with a pint of Asahi beer.
We were conscious that we were nearing the end of the trip as we stood on the balcony looking at the stars.
The last drive was back to Christchurch, and the road in seemed outrageously congested with traffic, more than we were used to. The first time we'd driven in, we'd missed a new bit of dual carriageway and ended up driving all the way round the north of the city. Today we were straight in.
We dumped the bags at reception and took the hire car back. We'd noticed a small dent in the door the day before, but the girl who checked the car didn't seem bothered by it.
We walked round the town again, and visited Quake City. This has photographs, videos and witness statements from the earthquake. The stories were harrowing.
One young woman had been trapped in her office – she'd decided to work on into lunchtime and was caught – with her hand under a concrete pillar. When the rescuers got the pillar off her, she saw her fingers fall away. They retrieved them and she had them sewn back on.
Another man had been flying home to Christchurch and was diverted to Auckland. He watched the coverage on television, and saw pictures of a collapsed building which he recognised as the place where his wife worked. He got himself to Christchurch and waited on the edges of the rescue work, until he was told that there was no hope at all of anyone being found alive. That building was where the vast majority of deaths occurred.
In the evening we had our last fish and chips, our last NZ beers, and packed.
We still had most of the next day, though, so we took that little hop-on hop-off trolley round the centre, and absorbed some of the history of the place.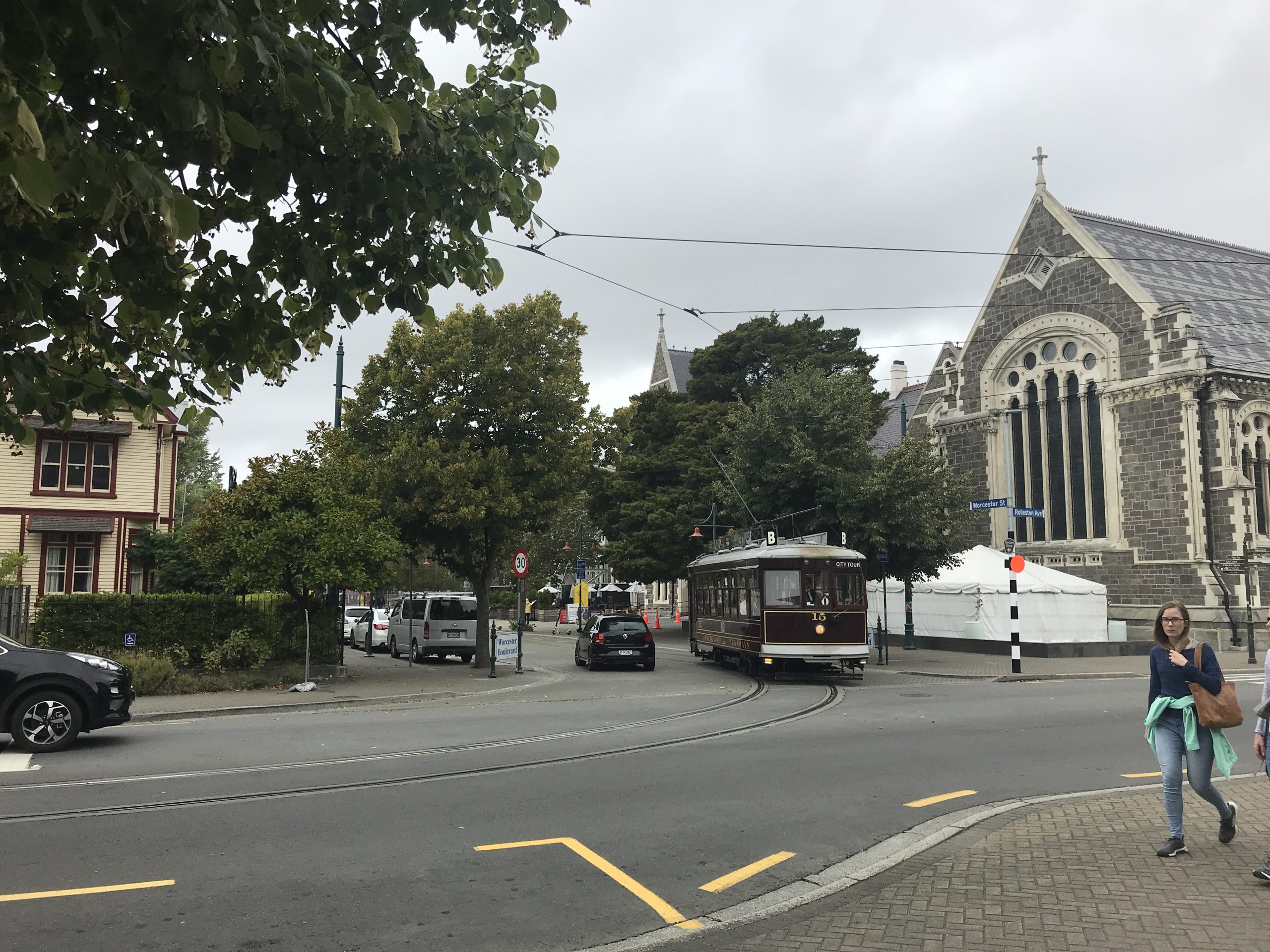 Back to the hotel, and a pick-up to the airport. The driver lived here, and had strong memories of the earthquakes, including the big one.
Christchurch airport is relatively small, and the A380 dwarfed it. We had a drink or three in the lounge, and boarded for another drink or three.
We were force-fed a three-course meal, and landed in Sydney where we disembarked for an hour or so – just enough time for a Bundaberg rum. Back on board the same plane, and another three-course meal. I was stuffed.
We chased the sun all the way to Dubai. The worry here was that Covid was now big news in China, and we saw lots of Chinese travellers. However, they all wore masks – as they so often do – and kept themselves apart.
Showers, drinks and snacks, and onto the 777 for home – and another meal. Service on this leg wasn't so good – nothing as attentive as all the other legs. The plane was quiet, with most noise from the cabin crew blethering and laughing together.
Then Edinburgh, a pickup to take us home, and time to relax and take stock.
In the weeks after we got home, Covid-19 overtook everything until we were in full lockdown. It wasn't a good time to mention holidays which other people were not now going to be able to take, especially such long, faraway ones. It also wasn't a good time to calculate our carbon footprint and brag about it.
But we can now reflect on that incredible place, and of the people we know who had made the trip and stayed – and others who would have if they'd been younger. The downside – and it's a biggie – is that you're well cut off from other family. It's a big ask getting them to come all that way to visit, both in terms of travelling time, cost and the need to stay with you for any reasonable length of time. With ageing relatives, it's simply not practical at all. Some of the people we met were there, at least in part, to visit family. For one lady, it was the first trip to see her sister in thirty years. The time difference makes communications with the UK problematic too.
The biggest attraction in NZ, it seems to me, is the lifestyle. There's room to move, and the climate is really good – though there will be increasing numbers of severe weather instances. If you like the outdoors, then you're in heaven.
Food and drink is really good (especially when you choose the correct beers at happy hour), and the people are friendly. They make Aussies seem brash and loud!
We had noted a large Chinese influence. Kiwis depend on tourism, and much of that is from China. In that respect, Covid has hit their economy hard. In shops and restaurants, many of the owners seem to be Chinese. And it seems it's a burgeoning winter refuge for many from the US.
Our final, lasting impression of New Zealand? A beautiful country that is appreciated by its peoples and is being well looked after. It feels safe, despite the ever-present threat of an earthquake of a volcano. Go there – experience it. We're glad we did.
And maybe you'll stay.