We have been adopting a policy of 'do it while we can' with regard to travel. Too many people never see the trips they had dreamed about. The world – and life itself – has too many variables to allow for detailed long-term planning.
In May 2019 we were in China and Hong Kong. A couple of weeks after we got back, Hong Kong erupted with protests and will never be the same again.
In February 2020 we went to New Zealand for around five weeks. We got home just as the pandemic was kicking off. While we were there, New Zealand closed its borders to visitors from mainland China.
Since then, foreign travel has been fraught with difficulties.
We originally thought of New Zealand for a 2021 'special birthday' trip, but we went with our mantra of 'do it while we can'.
The planning was, of course, as detailed as could be. We sought advice from friends who had been there, and Trailfinders. There was a self-imposed constraint: we wanted to meet up with friends of my wife's whom she knew from Jura. And Elton John decided to hold a concert in Napier, which meant that there was no accommodation to be had there.
But the trip was booked, the tours within New Zealand were booked, and the decision was made to fly business class with Emirates; if you're going to blow the budget, then really blow the budget.
We'd once flown business before – an unexpected upgrade at the gate at Heathrow for a flight to New York. We liked the service. We liked the food. We liked the free drink.
Flying to Auckland was something else, though. The 777 to Dubai was absolutely fine. The business lounge at Dubai – shower and a change of clothes – was perfect. But the A380! My! A plane with an actual free bar on it? A Scotsman's idea of heaven.
And so we arrived in Auckland with the feeling that we'd already had a luxury all-inclusive break. The driver that picked us up was very friendly and helpful – like all the Kiwis we met, as it turned out.
We got to our hotel – noting that the streets all around were being dug up to install a new underground line – and (eventually) into our room. Then it was off to explore the waterfront, with the only fixed parameters being to eat fish and chips and drink 'sav'; 'Sauvignon Blanc' has too many syllables for this part of the world. ('Avocados' and 'kilometres' also have too many syllables, apparently.)
Auckland
Despite the roadworks, Auckland is simply gorgeous. The marinas were full of boats of all sizes – Auckland has something like 33% boat ownership, possibly because there is so much sailing to be done – and it's all clean and lovely. There were a couple of cruise ships parked up, and we saw the passengers stumbling around the city wearing their lanyards in the coming days. (Been there, done that.)
Everyone seems to be out walking or cycling – or on those motorised scooters. This became a notable feature of NZ; you live outside as much as you can. It even has the second highest number of golf courses per head of population – second only to Scotland.
There was also an eclectic mix of peoples, including many Chinese. As we progressed through the holiday, we noticed that the Maori peoples seem to be very well integrated with normal life, unlike the first nation people in Australia who are still treated very much as an underclass. Bi-lingual signs were everywhere, and tourist events began with 'Kia ora' and a welcome in Maori, followed by the same again (presumably) in English.
It turns out that NZ does very nice craft beers, all over the country, so I got down to sampling straight away – along with the fish and chips. Not cod or haddock; in fact I can't remember the names of the fish they fry, but they are delicious. Over the holiday I lost count of how much fish and chips I ate. I expected them to weigh me at the airport on our way home.
The beer was lovely but very expensive – a Scotsman's holiday nightmare.
Despite the food and alcohol and being able to lie flat and sleep on the flights, we were knackered by seven o'clock. Early night.
Next day was our traditional hop-on hop-off bus tour, to get the whole layout of the city and learn some of the history. This was supplemented by a visit to the Auckland Museum. They have a pricing policy: tourists pay, locals are free. What a nice idea.
It was here that I learned that the first peoples to arrive in NZ got here a mere 800 years ago, from Polynesia. I'd assumed they were always here, as in Australia. Europeans started arriving in the mid-seventeenth century, firstly the Dutch (Abel Tasman is the guy credited with the first appearance, and 'New Zealand' is essentially a Dutch name – the original settlers had called it Aotearoa, the land of the long white cloud).
Going further back, New Zealand split from the supercontinent Gondwana 85 million years ago. This meant that everything developed there separately. Factor in massive volcanic activity that continues today, and climate change over the millennia, and you have a land like no other. Fauna consisted mainly of birds; land animals couldn't hack it.
Humans of course – starting with the Maori – wiped out several species of birds and decimated much of the forests. The fabulous Kauri trees, some thousands of years old, were belatedly saved when somebody realised that while their wood makes beautiful furniture, they take a long time to re-grow. Nowadays NZ is very appreciative of the need to protect its environment. The impact of man-made climate change was felt strongly as ash and smoke from the Australian bush-fires (a country run by a climate-change denier) tinged the sunsets and settled on the glaciers here. In fact, the North Island was experiencing a long spell of hot dry weather and was near to declaring a drought (I have to confess we loved the weather) while the south west of South island had been ravaged twice in a year by once-in-a-lifetime-storms (more of that later).
Also in the museum is a demo of what a volcanic eruption would be like in Auckland, as the room was shaken and the ground rumbled. Just the previous year, of course, the volcano on White Island had wiped out a group of cruise ship passengers. We'd thought of doing a cruise round New Zealand, and we'd certainly have taken that trip…
As part of our ticket, we got the ferry over to Devonport and walked around. It is just breathtakingly beautiful and peaceful. The only similar place is Niagara-on-the-lake in Ontario. I would love to live here, but I'd never get anything done; I'd just walk around and sit and drink coffee and look at the views across to Auckland.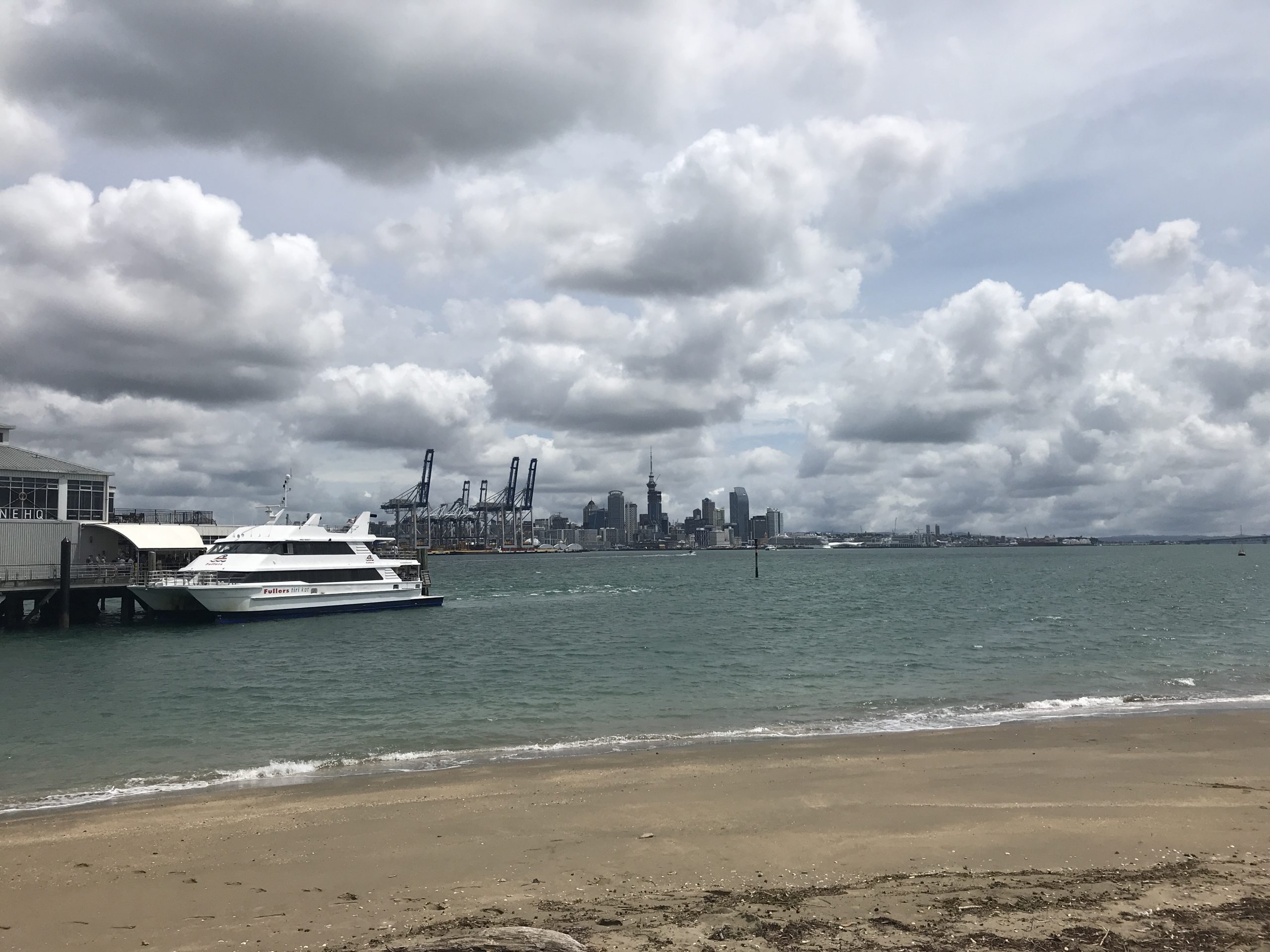 The next day eclipsed Devonport. We took a boat trip to Waiheke Island, and a hop-on hop-off around it. It was just stunning! We swam at Onetangi beach, and lunched at the nearby Charlie Farley's restaurant, where I assume the owner is a Two Ronnies fan.
They grow wine and brew beer on Waiheke, so we had to try that. At the Tantalus estate we had a beer flight (each), which seems to be a thing these days. Some of the beers were fruity and sour, which again is a modern fad, and I'm not all that keen. (I worked in a pub in Glasgow as a student; any beer that was cloudy and/or sour got sent back.) At the Thomas Bach winery we had wine.
Late afternoon, back in Auckland, we went up the Sky Tower to enjoy the view over this beautiful city. A peaceful night's sleep was interrupted by a fire alarm, which we could have done without.
Paihia and Tairua
The signs at the hire car place warn that New Zealanders drive on a different side of the road. They don't, at least not as far as we're concerned. More useful advice was that you have to park at the side of the road in the direction of travel.
We'd been told that driving anywhere in NZ takes longer than you think. This is true, but no one explained why: it's because of roadworks and windy hill roads. But everyone drives sensibly to the speed limit, and, of course, the roads are much quieter. This is a country the size of the UK but with a population less than that of Scotland. Most of this population is in the North Island, but it's by no means congested.
Another reason driving is slow is that there are endless opportunities to stop and look at the views.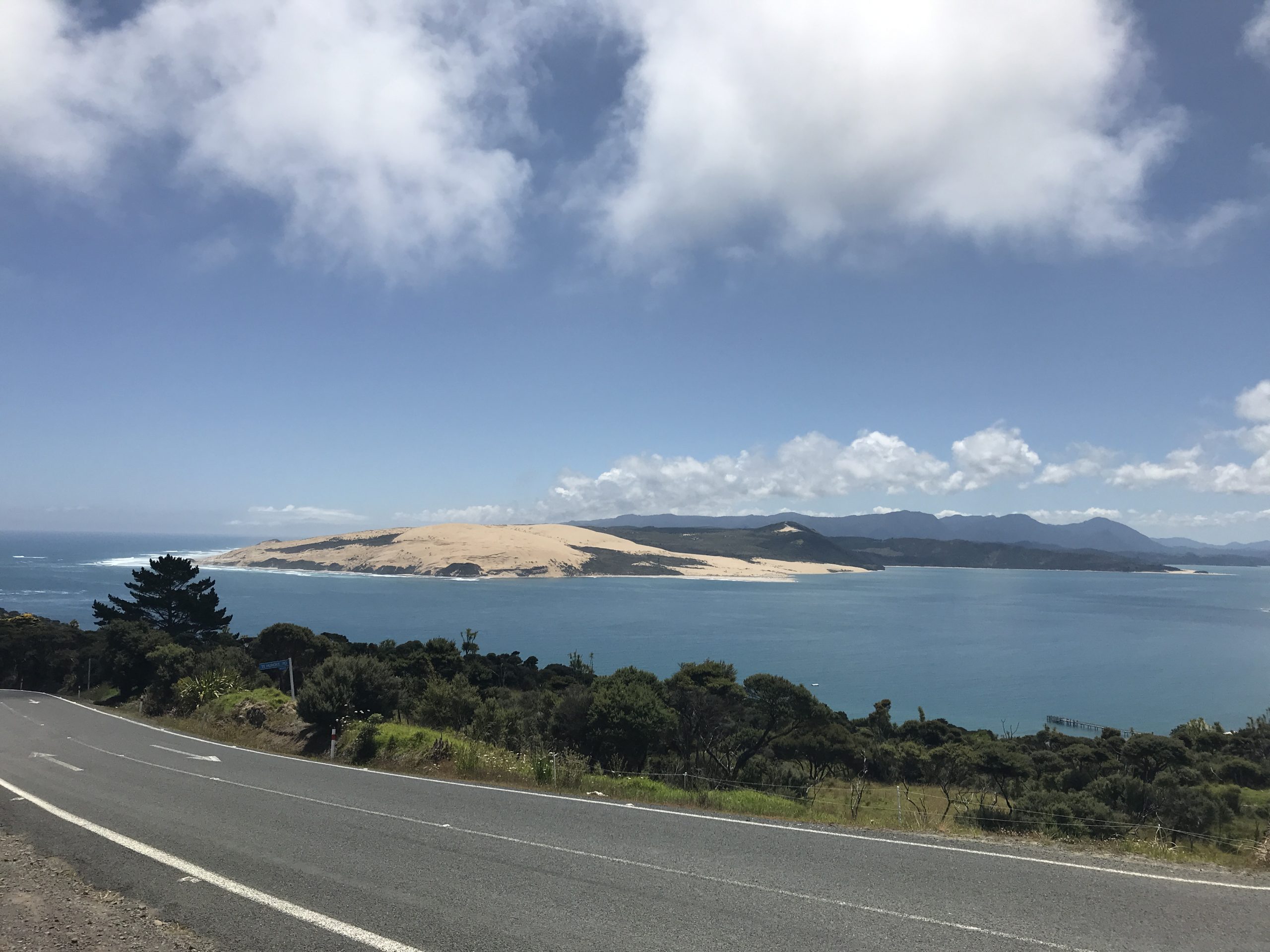 We drove north out of Auckland, stopping at Hotienga Harbour, Omapere beach, and Opononi. There was a Kauri forest, with a tree – Tane Mahuta – that is over two thousand years old. We lingered at the back of an organised group with a Maori guide, whose message as he pointed to this giant tree was that if we do not take care of the little things, the big things will not survive. Wise words indeed.
We arrived at Paihia on the edge of a large bay full of islands, which is called the Bay of Islands. The town itself is stunning – I'll use this word a lot – and the motel satisfactory, with happy hour prices that didn't make me very happy. (Five pounds for a pint at happy hour?) We walked round the town and along the beach.
In the morning we found a cafe for breakfast, and then had a swim in the bay under bright blue skies.
The afternoon was a boat trip across the bay to a huge rock with a hole through it, called The Hole in the Rock. The bay was alive with boats. On the way back there was a stop for a barbecue and swim at Urupukapuka. We actually swam in the path of speedboats coming in to tie up, so it was a bit of a health and safety nightmare, but the place was heavenly. Everyone around looked happy to be there, and chatted away.
We found a pub with reasonable prices and very good beers, followed by delicious ice cream as we walked back to the motel, the evening still gloriously warm.
The next day was a long drive back down past Auckland (one of their very rare stretches of motorway) and round and up the Coromandel peninsula. The road was windy and hilly, with lots of roadworks. Outside one tiny village where we had coffee and scones there was a tiny book-swap box. In fact, there were dozens of places where you could swap books or buy them second-hand.
We stopped at the summit of our drive to look down over the bay, and then it was down into Tairua.
The accommodation was run by an ex-teacher – so there was a bit of education chat: basically education in rural NZ has the same issues that education in rural Scotland has, just more of them – and cosy, but with no air-con. The owner gave us some advice on what to do, and also gave us a loan of a couple of spades for the trip the next day.
We drove around the town: gorgeous beaches, gorgeous houses, an expensive supermarket, and a glorious meal in a restaurant. Then beers on the veranda we shared with the currently-empty hut next door, looking at a sunset tinged with smoke from Australia.
In the morning we drove up to Hahai and took the water taxi to Cathedral Cove for a swim. Parts of the coast were similar to the Algarve, and of course the day was sunny and hot. (Locals were complaining it had been too hot for too long.)
Back at Hahai we had ice cream and purchased beers.
The highlight – and must-do – of this part of the trip was Hot Water Beach, which has to be done near low tide. We decided to go there and wait, rather than go back to the accommodation and drive out here again.
So I spent a few hours turning into a lobster. We went up to the shop to get an ice lolly, to find out they shut at four. Good for their work-life balance, but a bummer for us tourists.
Finally the tide had receded enough for us to explore the amazing Hot Water Beach experience.
All of NZ is volcanic, and sits on the boundaries of various tectonic plates. Here, boiling water seeps up to the surface at low tide – the rest of the time the weight of water keeps it down. If you just shuffle your feet in the sand you can get scalded.
The main pastime is to dig a hole in the sand – hence the loan of the spades – and get the right mix of boiling and sea water, then sit there, either alone or on couples or in a big group. It's hard to get it just right. In fact, we never really did. The sea kept swamping our efforts.
When we felt we'd had the full experience, we decided to have a final swim. As I waded into the ocean, a huge stingray drifted past. I decided to give the last swim a miss.
On that point, New Zealand doesn't have deadly animals like Australia has. Even the stingrays aren't dangerous unless you stand or jump on one. But this guy was seriously big.
Back at our accommodation, it was beers and fish and chips and another gorgeous sunset.
The drive was relatively short, and we ended up in Tauranga, a big town on the edge of the Bay of Plenty. The hotel was very upmarket, and we felt it was a shame that we were hardly going to be there. Yet again, the weather was glorious.
The must-do here is to climb Mount Maunganui, which we did. It's an unrelenting uphill path which feels more than its two hundred metres official height. As the path curls round the mountain – a dormant volcano – the views get better and better. Miles of beaches, boats speeding along, hang-gliders jumping into space. The only annoyance was people jogging past us as we coughed and wheezed our way up.
From the summit we looked across Tauranga and the bay. Somewhere out in the distance was White Island, a sobering reminder of what can happen here at any time, without warning.
We had lunch at a beachfront cafe, a brief rest at the hotel, and then met an old friend of my wife's from Jura. She worked in medicine and had come to NZ for a year to work. Fast forward, and she's still here, with a Kiwi husband and three children. When we'd arranged to meet them they'd said 'on the beach'; that was months in advance. This was what they do after school and work, go to the beach.
As we watched the sun ease its way down, eating pizza and drinking beers, seeing a cruise liner heading out to sea, we really felt we were getting an insight to family life here, and appreciating the lifestyle. They work hard, no doubt, but the hours are good and they're laid-back, not frenetic and stressed like so many in the UK.
It wasn't far to Rotourua, which is pretty much in the heart of the volcanic area. There is a constant smell of sulphur in the air, and the lake beside which the hotel sat steams and bubbles.
We finally got round to buying a SIM card for the old iPhone we'd brought, which we should have done earlier; we'd left our main mobile numbers with the places we'd stayed – and with the hire car people – and actually missed a call to say we'd left some paperwork at one place. Nothing vital, though.
Many of the places we stayed had laundry facilities, which was essential. And while I'm writing about mundane things, we carried supplies of cereal bars, bananas and water with us. Breakfast was often taken in the car until we could get to a mid-morning coffee stop (usually with cake).
The hotel did a 'Maori experience' but we'd been advised to do the proper thing, so we had booked a visit to the Tamaki Maori Village that evening. A coach picked us up, and the female Maori driver was worth the cost on her own. (By the way, New Zealander's don't hassle for tips – they don't even mention it.) On the way, Gerry from Sweden was voted in as our tribe's leader, from a short list of one.
At the village, we mingled beside other coachloads, and all the tribal leaders got their briefing. Basically, treat this seriously: it's not a joke.
The Maori arrived both on foot and in a large canoe. There was the ceremony of greeting, with a seriously-scary Haka. Each tribal leader approached, picked up the fern that was thrown down – making eye contact the whole time – and touched noses. This was the way it would have been in the past.
We split up into our tribes and were taken round various stations. One involved a demonstration of Maori crafts, others were activities that were actually designed to prepare young Maoris for warfare by improving hand-eye coordination. Volunteers from amongst us took part, and I ended up being trained – unsuccessfully – to perform the Haka.
Then there was the show, with singing and dancing and story-telling. And an explanation of Hangi cooking – basically an underground slow-cook – and then the meal itself. There was a small bar, and I decided to save everyone else any embarrassment by going up first to get drinks. At our table were some young women from all over the world on one of those Kiwi Tours, currently doing New Zealand in a rather different way from what we were.
Also around were people from North America, including one from Nova Scotia. We shared our common Scottish heritage, and love of Bruce Guthro and Runrig.
The bus driver kept up the entertainment on the way back to the hotels, including 'she'll be coming round the mountain', where she went round and round a roundabout several times to illustrate the song.
Just south of Rotorua is Wai-o-tapu, a geothermal park. We got there early, and then had the bizarre experience of having to drive out again, park where the geyser was, wait for it to be primed to blow, race back to the main car park to get a space, and then walk round the park itself. Having seen Icelandic geysers, we agree that this particular geyser was not worth the hassle.
But the park itself was really interesting. Lakes steamed sulphur-laden air, some were stagnant but brightly coloured – the 'artists' palette', the 'champagne pool' – and the whole, very long walk round it all was just wondrous.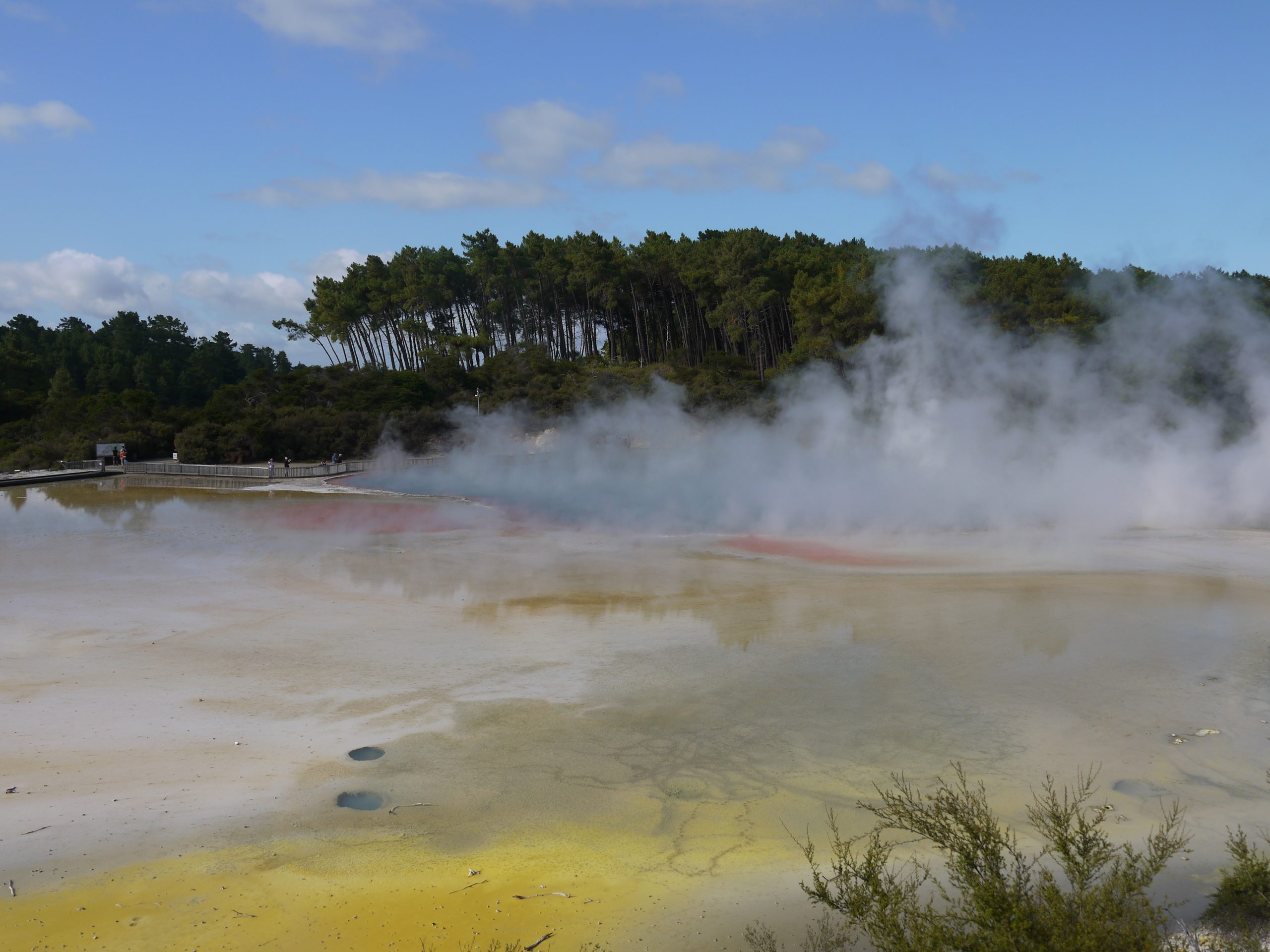 We drove on down to Taupo, where neighbours of ours had worked as locums for a few months a couple of years before. It was a beautiful town on the edge of the huge lake, and we just enjoyed the experience of being there. All the restaurants were very busy, so we had to wait for our fishburger lunch, but it wasn't a problem.
Someone we spoke to later said that this would have made a better base that Rotorua, and that is arguable – but Rotorua had the Maori experience! Our neighbours in Dundee, who had worked as locums for several months, had been based here. It is very central for exploring the North Island.
Taihape and Wellington
We then headed south to Taihape, a long drive across desert and a big military area, with very parched grassland.
We'd been told to expect NZ to look like the 1970's. On the journey we'd seen some very old British cars, along with some classic American ones. Couple this with herring-bone parking on main streets in some towns, and we could imagine we'd time-travelled into the old mid-west.
In Taihape we really felt we'd gone back in time, with pick-ups and old British and American cars all over the place. We stopped to buy sandwiches, juice and beer for dinner, and headed up the hill to our overnight stop.
It was a tortuous drive up to the top, then we were onto an unsigned unpaved road that would treacherously downhill to the river valley, to our stop at River Valley. When we passed a Kiwi Travel coach, we realised what we had come to.
It had looked very posh on their website, but in reality it was a hippy paradise, with the manager as laid-back as the guests. Most of these were young adventurers, here for mountain biking and river rafting. There were a few ordinary families, and the surroundings were pleasant sitting there by the river, but we felt a little out of place.
There was no TV, no Wi-Fi, no mobile reception. But after a couple of beers we began to appreciate it all; it was part of the experience.
The drive back up the track the next day was a nightmare, with the traction control in the car kicking in regularly. The only real annoyance was that it had taken an hour off the main road to get here, and an hour to get back. There were other hotels on the main road that we could have stayed in.
But we made it to Wellington by lunchtime, found the hotel, found the car park opposite, checked in, and headed out.
Wellington is very small, steep and compact – we didn't even think it was worth doing the hop-on hop-off. Instead, we found the 'cable car' (which is really a funicular) and rode it up to the top of the botanic gardens for the view and a snack.
We walked back down into the city, past the Georgian government buildings with its strange Beehive where parliament sits, and down to the waterfront.
This was a lovely area. There were big container ships coming in, but they were kept well away from the front. Also away to the east was the cruise ship terminal. The natural harbour is huge, protected by islands and parts of the peninsula, many with huge houses on them.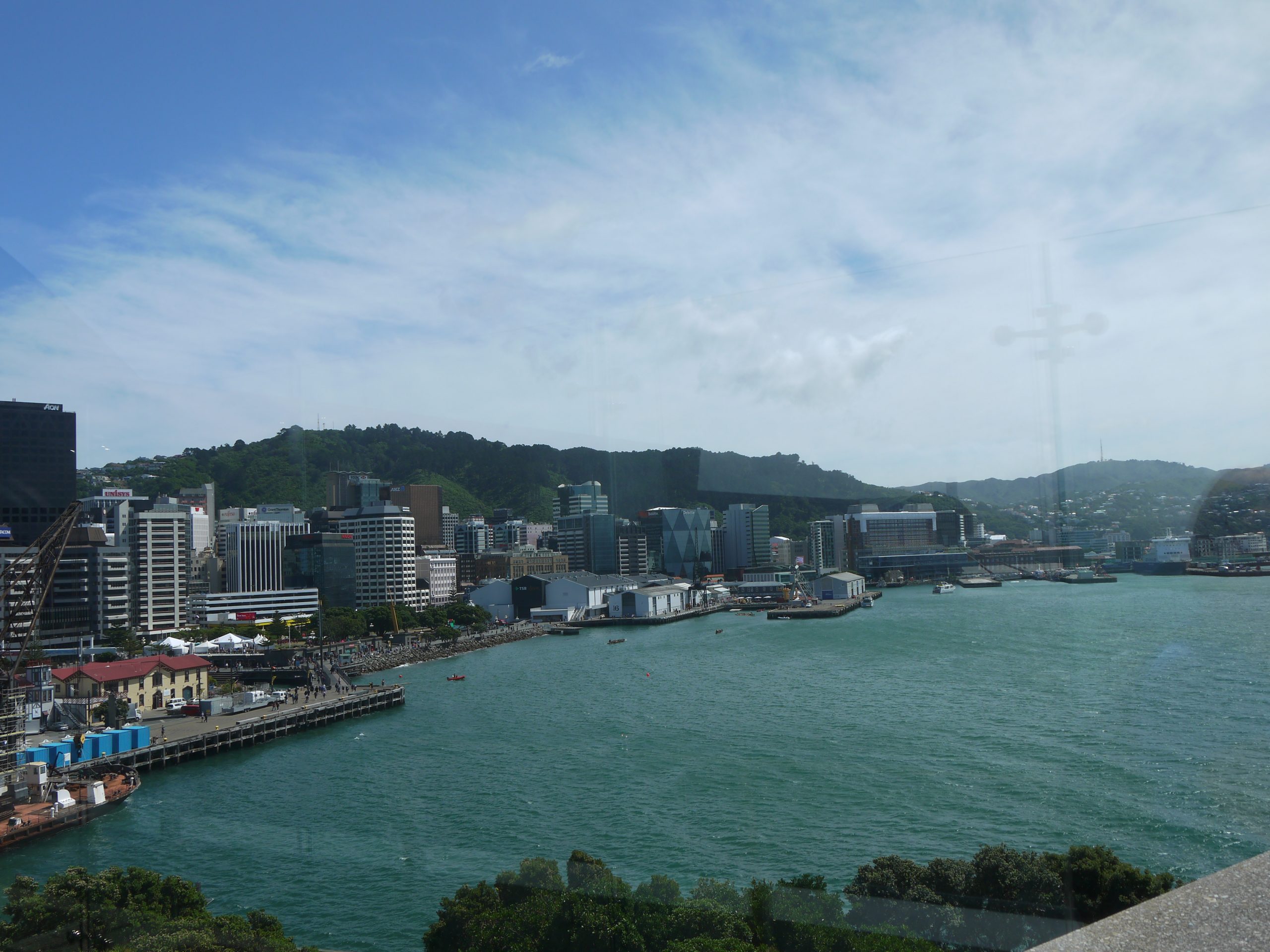 We'd been told to eat at Crab Shack on the waterfront. When we got there, there were no tables available, and we were prepared for a wait when a young Irish woman came over and said they were just about to leave, so we join her and her partner.
She was a civil engineer who had come out to help with the aftermath of the Christchurch earthquake – and stayed. Her partner was from PEI. 'I bet you don't know where that is.' 'Ha – we've been there!'
They told us about the harbour fireworks later, and left us to it. We had a superb meal, and then found The Garage Project, home to many craft beers, and later watched the fireworks.
The next day we strolled along the waterfront. There were teams doing dragon-boat racing, and we watched for a while, but the main event was the Te Papa museum, which included the Gallipoli exhibition designed by Peter Jackson.
The displays here were second-to-none: models of the landscape with lights showing the progress – or lack of it – of ANZAC troops during the campaign; the lead-up to the battles, and lies that the Turks were dreadful fighters and totally unprepared for battle; larger than life models of soldiers, with plaques giving their history and the conditions under which they fought. It conveyed the whole disastrous futility of that campaign, which, of course, stayed with Churchhill all his life.
Back outside to enjoy the atmosphere, lunch from a van parked there, and a chat to a random woman who was just sitting around. Generally everyone in NZ was happy to talk and give tips on what to do.
We had our first rain shower that evening as we sat in an Italian restaurant. However, down in the South Island things had been bad. Milford Sound, where we would be in a couple of weeks or so, had been cut off by floods and landslips. Our trip there looked unlikely.