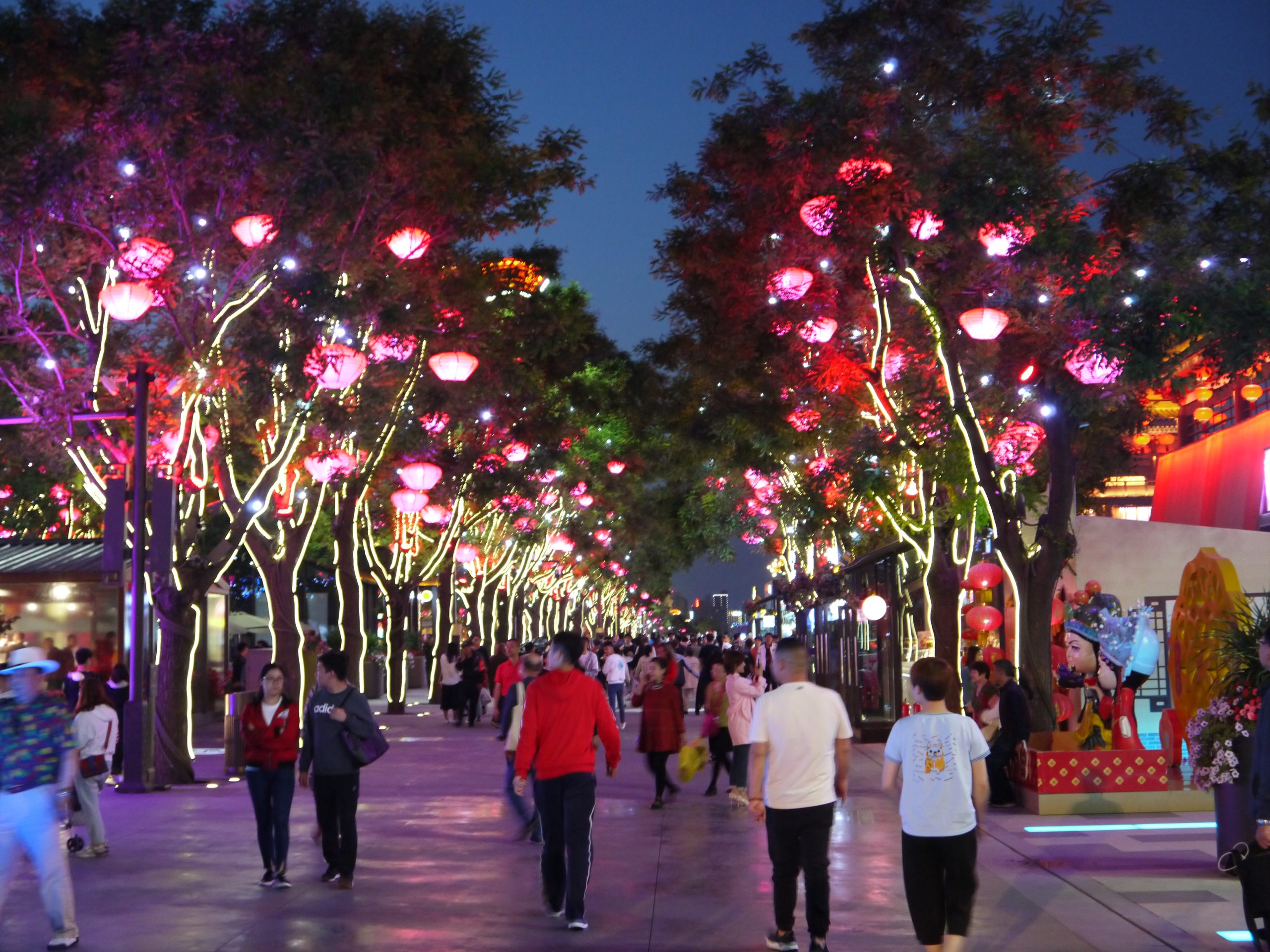 It was a long day's travelling: Beijing airport then the 2-hr flight to Xian and the drive past mile after mile of high rises into Xian – another city of 24 million people or so.
That evening we had a walk round the city centre: everything lit up, with processions and floats, people playing on square arrays that lit in different colours, a crowd doing a kind of line-dancing to music. Again, everything was very, very busy and very, very safe: no drunks, just a family atmosphere.
Many people here, as elsewhere, wore face-masks. And we gradually realised that most were only carrying their phones: no handbags. Everything was done through WeChat: text, phne, pay bills.
Our hotel was quite luxurious: it seemed to be the way of it that the better the hotel the less time we had to enjoy it. This one had a quirk, though: glass doors in the bathroom. There was a glass panel between the bathroom and the bedroom, but it could be flicked to opaque with a switch. Not so the doors. Who designs this sort of thing?
After dinner we had a show of dancers, then collapsed into bed.
Terracotta Army day: another must-see, another 'I can't believe I'm really here' moment.
First was a visit to the workshop where they make replicas of various sizes of the Terracotta army. We bought a kneeling archer of a suitcase-friendly size, and it now sits guarding our front door – so far with great success.
From here we were taken to the actual real thing.
There was a huge tourist arrival area, with car parks (including chargers for electric vehicles) and shops and cafes. Amy, our guide, comes from Xian. She said this all used to be pomegranate fields, but they were swept away to make room for the tourists (and their money). Her family farmed pomegranates, and now live in one of the many high rises on the other side of the motorway. Her take on this was that over the past twenty years China had opened up and modernised. In order to do this, they needed 'strong government'. Looking at it all from the chaos in the UK, I thought that this might just be a good idea.
We got the story of the Terracotta army, designed to protect the Emperor Qin Shi Huang to defend himself in the afterlife. What I hadn't realised was that all the pieces were different, and if any artisan produced an inferior piece, he was executed. Got to keep the quality up, I suppose. But the site was discovered by a subsequent emperor, and the pieces all broken up and reburied, so that when the farmer rediscovered the site in modern times while ploughing his field, a great deal of work had to be done – and is still ongoing.
We thought we had maybe been pre-conditioned by the workshop and all the replicas. Not a bit of it. The scene when we entered that huge area – covered over like it was a vast sports arena – and saw trench after trench of clay figures, we were just gobsmacked. Yes they are all different, but also categorised: infantry, generals, and so on. Soldiers' hair was never cut, but tied into a topknot which could be positioned left or right or centre, indicating rank.
We gazed and wondered at the sheer egotism of that emperor, and reflected how some modern day rulers would think it was probably a good idea.
The afternoon was a wander around the Muslim quarter and a walk along the top of the city wall. The Muslim quarter was a surprise, because at the same time in northern China, Muslims were being segregated and 're-educated' to get their religion out of them. The rest of the world was being very cautious about condemning this, because the rest of the world has a bit of a thing about Mulims too.
We were warned not to buy – and if we did buy then definitely don't eat – any food. Apart from sweets. So we bought some hard ginger sweets (and brought them home: they were fantastic!)
We had a dim sum dinner, with beer and wine, then a show. I now no longer want to eat dumplings. These were veggie, fish, and chicken. They were very nice, but that's my lifetime entitlement used up, thanks very much.