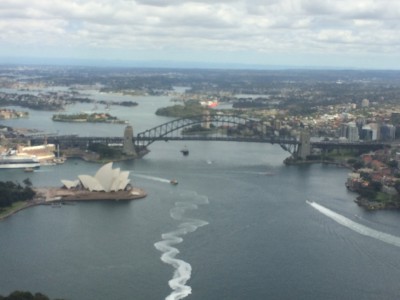 As Douglas Adams would have said, Australia is big. Really big. You just won't believe how vastly, hugely, mindbogglingly big it is. So when we phoned Trailfinders to say we wanted to do Australia, there was a polite response and some amused laughter in the background. They asked us what we really wanted to see and do.
We had some fixed points. We wanted to go to Melbourne to see it and my wife's second cousin, who hadn't made it to our wedding and whose husband was ill. We wanted to drive up the Queensland coast. I wanted to go to Uluru (preferably with my wife). And we wanted to finish with a week in Sydney, staying with a friend who was working out there for a couple of years.
We put up a Facebook post asking friends to tell us their 'must dos' for Australia. This gave us enough to fill a gap year and more. We whittled it all down and went back to Trailfinders. They gave us a few days in Singapore on the way out and Dubai on the way back.
But this article is about Australia. Not a travelogue. No. Just impressions
Because Australia is big. Really big.
Melbourne is amazingly European, with trams and everything. The climate is sensible too. The highlight was the day going out Great Ocean Road to the 'twelve apostles' – sea stacks, of which there are about eight or so. Standing there gives the feel of the power of the southern ocean, and reminds you that the southern hemisphere is completely different from the northern one. The world is not symmetrical.
Brisbane was a quick stop, and the in-flight catering was a pie. Australians like pies. We did the free ferry up and down the river, had a delicious Malaysian meal, saw a covert drug deal, then picked up our hire car in the morning and drove down to Byron Bay. (Just to remind you, we were told by friends we had to visit all these places).
Byron Bay is just gorgeous, and full of hippies. We walked along by the beach and up to the lighthouse, and watched the surfers and saw whales and dolphins out in the ocean. We ate in a bar-restaurant near the beach, and wondered why things seemed to close down early. It was Sunday, though. And days later we found out there was a one-hour time change between Queensland and New South Wales.
From there we drove north. We had eight days to get to our final stop north of Cairns. Trailfinders had booked us into fairly standard budget hotels when we had an overnight on the way, and very nice hotels when we had two nights.
The hippies who couldn't get a place in Byron Bay are all staying at Airlie Beach, having barbecues at night, playing guitars, smoking dope. It reminded me of my student days in Glasgow. Well, maybe not quite.
We went to Fraser Island on a super-sized eight-wheel-drive monster, driven by Drew who gave us a cheery commentary all day long. It's a sand island, formed because of its location and built up over the years. The beach is the main highway, with speed limit signs and all. We saw a dead giant turtle. We swam in the freshwater lagoon. Drew made us a barbecue. We saw dolphins on the way back to Airlie Beach.
Just as fabulous was Noosa and the trip to the Whitsundays. We walked along Whitehaven beach and swam in crystal clear water. A party of Japanese businessmen came in on a seaplane.
For the rest of the drive we stayed in some rather odd towns: Gladstone and Townsville. These towns have huge coal trains and industrial harbours. And strange people looking at you from bars.
Driving was easy, with signs reminding you to take a rest. It got warmer and warmer as you went north (Australians think this is natural). The roads were lined with dead kangaroos (we didn't ever see a live one in the wild). Banana plantations appeared. Local accents became impenetrable.
At Palm Beach, north of Cairns, the sea was mountainous. The lifeguards were on duty and said we were pretty crazy to go in for a swim. But we did, and it was wonderful. Walking past at night we saw the warning signs for crocs and sharks.
We flew to Uluru Resort (a time difference of one and a half hours: I still don't know if this is clever or stupid). We walked to a viewpoint to look at the Rock in the distance, and drank 2.5 litres of water on the way. The heat of the sun was incredible. I felt that, if you wandered even a little way into that red desert, you'd just die.
They've created a resort as a circle of low-rise hotels round that viewpoint, some way away from the Rock, as is the new airport. Previously it looked like Las Vegas round the Rock, apparently.
We saw Uluru close up at sunset and at sunrise. We've all seen the photographs over the years, but nothing beats being there, looking at it. It's full of holes. People still walk up it even though that's frowned on. It's no wonder that ancient peoples saw the rock as being sacred. It just sits there in a flat red desert, like the monolith from 2001. (Except it's big long red and rough, not black and smooth and rectangular.) We had a barbecue under the stars, chatted to a young couple from Barcelona about our Scottish referendum and their refused Catalonian one.
A young girl took us into the darkness, and pointed her laser at the stars. There's billions out there. I've never seen so many. Space looks big from here, really big.
And finally we got to Sydney. They like coffee in Sydney, and it's all good. They are the worst city in the world for walking around looking at their phones and colliding with everyone. But they're almost all polite and well-mannered and relaxed. The climate is just great. Tropical budgies visit the balcony in the morning.
We walked over the bridge, walked round the opera house, took a tourist ferry around the harbour and a helicopter trip all around the city. On the Saturday we took the ferry to Manly Beach along with half the city, and swam in the sea and had exotic pies for lunch.
I met up with my cousin, whom I saw very regularly as a teenager and last saw at his wedding in Stirling in 1969 before he emigrated. We had lunch and chatted about his life and my life. At moments like that, you can't help thinking how little decisions – albeit brave decisions – can lead to such changes. I could have had his life, if I'd chosen that route. Would it have been better? Impossible to tell. I did love Sydney, though.
A big dinner at an outside table in the Sydney Café, cocktails at the Opera House bar, a swim in the Olympic pool looking up at the Harbour Bridge… And the airport and the A380 to Dubai.
We were asked later what the highlight of the Australian trip was. I said everything was a highlight, every day was something special. I could imagine living there. I know people who went there for a year or so and came back to the UK, and fervently wish they'd stayed over there. My wife downloaded the specs for some jobs that fitted her skills, and we speculated on what we might do.
But, in the end, it's a hell of a long way from the UK. And their politicians have a strange-sounding agenda (Tony Abbott was prime minister at the time). Burning coal, polluting the Reef, cutting investment in renewables (all that sunshine, guys!). And an ironic anti-immigration policy. A bunch of old guys on the train back from the Blue Mountains were discussing a solution to the 'Islam problem': 'Wait till they're all in their mosque and then just bloody blow it up, mate. Get rid of them all.' They were in the quiet coach too. Tsk tsk.
At least we saw signs of more sensitivity towards the Aboriginal peoples. (At Uluru Resort we were told we needed to show our room key to buy alcohol, to make sure the locals didn't get their hands on it.)
And we've only just scratched the surface of Australia. There's Perth and the whole west coast, Darwin and the north, Adelaide.
Australia is big. Really big. And it's wonderful.