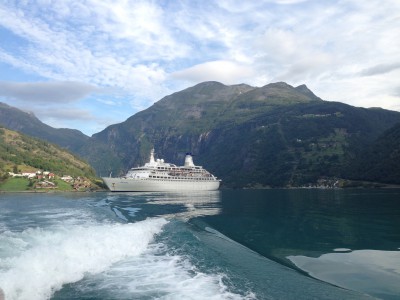 Geiranger
After months at sea we finally spot land. Well, maybe thirty six hours. During the night there are lights close by, and we vow to keep the curtains shut. In the early light we're easing down the long fjord, narrowing all the time, with vertical walls on either side, till we anchor near the tiny village at the head of one arm of the fjord, now called Geiranger.
Getting ashore is by tender, which is basically a lifeboat which fills itself with its own exhaust fumes so that any survivors from a sinking would be in further peril. Once moving, the exhaust is left behind to gradually fill up the valley. Too late, I remember that Geiranger is a mega-disaster waiting to happen: one day there will be a massive earth slip which will create a tsunami. In one direction it will swamp the village and any cruise ship there; in the other it will fan out across the North Sea, eventually destroying my home town. Once I realise that I wouldn't be safe from this calamity even at home, I relax.
We board our coach, and our Italian guide introduces himself. Then we're off, through the small town and up through a series of ever-tightening hairpin bends towards the summit of a mountain. I've driven this road before, twenty years ago. This time I am in awe of the view; last time I was gripping the wheel, eyes fixed a few feet in front of the Punto, fearing it was going to tip backwards as we took each bend. I swear I recognise patches of tarmac.
We turn onto a toll road for the last part of the journey. The locals have an annual race from the town to the top – 22km on foot or bike. The record on a bike is just under an hour. Stunned by that thought, I miss what he says about the runner's best time, but I know it was ridiculous.
From the top we photograph like crazy before a mist rolls through; we elbow teams of highly trained Japanese photographers aside to get our snaps in. I photograph S, with the long fall to the fjord as a backdrop, and she photographs me, and we photograph ourselves, and we get someone to photograph us. We look round the small gift shop and side-step the souvenirs: hats, gloves, trolls and flags, with some pewter.
Then it's back down the mountain, which is more terrifying than coming up, because you can see exactly where the bus will roll down to if the driver misses a bend. But it's stunning, like God made Scotland as a scale model and then decided to build the real thing.
We stop at another viewpoint amongst cars and coaches, the one that every postcard of Geiranger is taken from, as well as the family photographs on my last trip. I photograph S, with the long fall to the fjord as a backdrop, and she photographs me, and we photograph ourselves, and we get someone to photograph us. Unusually, on this trip she's lost her knack of picking people who know how to work an iPhone or a camera: one nice young man kept his finger on the white round symbol and shot off 45 identical pictures, none of which were any good (logically, of course, if one had been any good then would all have been). But she's back on form this time: a young American lady is pinching and zooming like a pro.
Down in the town, we wander free. We have a huge ice cream which is delicious, and then a hot chocolate in a chocolate shop, which is delicious too. We explore the souvenir shops and avoid buying anything too obvious. Or, indeed, anything at all.
Then it's back on the first available tender – well before the deadline of 4 o'clock for the final tender, oh yes – and are taken back to the ship. As well as the exhaust problem, this one has a faulty engine, so it's a slow process.
But Geiranger is lovely. It's a geological marvel that somehow has to be turned into a tourist trap without ruining what they've come for. And by and large it manages that, because physically there is tons of room, and Norwegians are relaxed and polite. I contrast this place with Vesuvius, which has a souvenir shop slap bang across the path leading to the summit, and tourist trappers who combine aggressive sales pitches with extreme laziness and lack of organisation. Norway's better. They love their country, and they look after it, and they are happy to share it.

Svartisen Glacier
Leaving Geiranger, we sailed back up the fjord and round the corner – 'headland' I think they call it. At dawn the next day, we're miles out to sea, which is disappointing: I'd hoped to be hugging the coast, in and out of islands.
Our resident natural historian explains that the inside passage ('ooh, missus') would be longer and slower. By evening, though, we do come within sight of the rocky islands along the coast. People gather on deck, and mobile phones and maps are consulted, because we are close to the Arctic Circle.
Aforementioned natural history man – who bears an uncanny resemblance to a former colleague, and who lives in Scotland – has explained the definition of the 'arctic': at least one day of non-setting sun. Usually this is accompanied by a particular climate, but Norway does not have this: its own arm of the gulf stream keeps it too warm.
We have some confusion this evening because our daily itinerary stated that we cross the circle after visiting the glacier, whereas NH-man knows we cross before. We wait, and then realise we're travelling due east, so it will be some time before we cross. (I try to calculate it, mentally working out the circumference of the earth, dividing by four, then by sixty, to find how long one minute of latitude is, and so calculate time of arrival based on a speed of 15 knots or so. My calculation falls at the first hurdle: I can't remember the radius of the earth. We did this with every second year class every year I was a maths teacher, and revised it with third and fourth year. Now it actually comes in handy, and I can't bloody remember. I can hear ghosts of thousands of pupils mocking me.)
We eat in the restaurant on the ship called the "Yacht Club" that evening, which is exclusive in the sense that it's a separate booking and you can only go there twice during your cruise. There's a different menu too. The main advantage is that we have a view outside, so that we can spot when we cross the Arctic Circle – NH-man has said there's a blue line painted on the water, but I'm pretty sure that's a joke – and maybe even when we come up to the glacier. The captain tells us we've crossed the circle a few minutes before, and we raise a glass. (Two days later we get a certificate. In October we'll be crossing the equator, leaving just one major line of latitude uncrossed.)
We go out on deck with everyone else to view the glacier and listen to NH-man's commentary. I can honestly say I've seen a few glaciers in my time, but they never fail to fill me with awe: the colours, the scale, the fissures, the impact on the planet, the threat from climate change. We stand gazing. I photograph S, with the glacier as a backdrop, and she photographs me, and we photograph ourselves, and we get someone to photograph us – two attempts, because the first person didn't realise that the glacier in the background was rather key to the composition; the second choice nails it, but S needs to brush up on her photographer-selection skills.
On the way back out from the glacier, we notice what I noticed on previous trips here, including catching a boat from Stavanger to Bergen: there are houses everywhere along the coast – just everywhere, including on tiny green islands. Almost all have some kind of boathouse too, and many are on patches of arable land. There are very, very few any distance away from the coast. I know that many of these are summer or weekend houses for Norwegians who live in the smoke. Leisure time is walking, hiking, skiing, boating, cycling, fishing, hunting. It's rare to see a fat Norwegian.
But even knowing all that, it is still striking when you sail for hours, miles from any town, and there is still that near-continuous strip of housing, with trees behind stretching up to the sky. As we go further and further into the north, the landscape stays stubbornly lush.
Leknes, Lofoten Islands
We assume that the Lofoten Islands will be barren and bleak. The literature says that people live here, but we know it must be an exaggeration. But we wake up by a set of houses and a small port – and a church – and here it is.
We've selected a tour based on a single criterion: alcohol. We're going to an ice bar (S is fed up with my chant 'we're going to a gay bar'). We board a coach for what turns out to be a very long drive to a very short experience, which turns out to be the correct ratio. Our tour guide is Italian (again: what is it with Italians that they come to the north of Norway to make a living?). We travel along lush farming communities with large, bright Norwegian houses, boats and 4x4s. Our guide complains about the price of fuel here: the equivalent of £1.60 a litre! There are better roads than in most of Scotland, and a long sweeping concrete bridge, and people everywhere. It's all spread out. One couple had asked if they could be dropped off in the middle of town after the tour, and would just get a taxi back to the ship: our tour guide was very patient explaining to them how inappropriate this was.
The ice bar turns out to be an ice sculpture museum, which results in my camera lens fogging up for an hour afterwards. While wandering round in our fur ponchos at -4C – my fur collar looks like flowing grey hair in the flash photographs, causing S to shriek 'Gandalf' when she checks them – we admire the ice sculptures. Then we get our shot of strange liqueur in an ice glass inside a normal glass, and down it. Pretty much cough medicine. We circle round and grab another: yep, pretty bad. S gives me hers to finish, which I do. It's a terrible drink.
Then it's the long run back, round a different part of the island but still with houses strung out, boats in the water, and farms on the fertile land. The guide tells us they grow 'potatoes, carrots, potatoes and carrots'; later he remembers they grow cabbage too.
It's peaceful and clean. You could live your own life here, and be pretty self-sufficient if you knew how to fish and didn't mind living off potatoes, carrots and cabbage. You'd have your own space, with even more space available if you wanted. However, the guide says that people are gathering into the towns on the islands: they're less inclined to have their own space these days. Village schools are closing.
And it's very far away from anywhere: your only way out is by boat. You live here because you were born here (or perhaps in Italy). I know a few people who would love to live this way. I can see the attractions, and I'm so glad I've visited, but I couldn't live here.
Hammerfest
We've decided to do Hammerfest independently, because we read that the ship berths pretty much in the centre of town. On deck, as we ease between islands, it's misty and cold, with a horrendous wind-chill. We wear everything as we document the approach to the town: the houses, the oil refinery with its flares, the Hurtigruten arriving.
We exit the ship and grab seats on the shuttle bus into the centre, because we've not quite parked in the centre of town even though we can see round the curve of the bay that it's not far. The bus drops us outside the Polar Bear Centre. On the drive, and later on, we note the courtesy of drivers in Norway, and the way they defer to pedestrians. Canada was similar. Scotland isn't.
We're still wearing all our Arctic survival gear, because this is the Arctic and it was bloody cold out on deck earlier (on our semi-private forward deck, which only a few people know about). As we head up through the town to the zikk-zakk path up to the Sami experience and viewpoint, we realise the sun is beating down from a clear blue sky and we are sweltering. The jacket comes off, and the body-warmer and fleece are unzipped.
From the top we view the town, which had been completely destroyed towards the end of the war, with only one building remaining. It's now a key location for the oil industry: helicopters fly overhead, and there's a little airport somewhere nearby. I could imagine living here, with that airport as an escape route.
We view the Sami buildings and nearly crash a paid-for trip from the ship as it enters for a talk, but we back off. Instead, we head into town. We go to the Polar Bear Centre to see whether they have wifi: they don't, but the library has. We head up, get our free individual code, and settle down to do a Facebook post and delete emails. S once again has a Hotmail problem: Microsoft thinks someone has stolen her phone and gone to Norway with it; they keep asking her to verify that it's really her in Norway, which involves checking her activity and asking for a code to unlock her own emails. This is causing her stress, which is then transferred to me. I leave her shaking her iPhone and go back to the Polar Bear Centre. £18 seems reasonable for membership of the Polar Bear Society, and I seriously consider it before leaving it; I'm in Rotary, that's enough.
Like many places in Norway, there's the history of hunting and going on expeditions to the North Pole. They talk freely of hunting whales and seals, and killing reindeer. We do concede that this is all necessary, but you can almost touch the cultural divide.
We find a shop that sells us ice lollies – once S has sorted out her email problem – and meander back through the town to the ship, imagining life as a Norwegian here.
North Cape
On the same day as the Hammerfest trip, we go to Honningsvag with the sole purpose of the coach transfer to North Cape and the midnight sun. This feels like the Arctic at last: the air is icy and clean as it touches you. Buildings are cut into granite cliffs. The sky is grey and inhospitable, the sea black.
The road up there cuts across boggy moors, which all looks a bit like the road north from Ullapool. Mist descends and then recedes, heavy rain lashes us. We see a group of reindeer through the mist as we cling to the road, really feeling that we're about to fall off the end of the world.
We stop outside the tourist centre, and go in. The place is mobbed. We've been told about the movie show, and Japanese tourists are rushing downstairs to the cinema, so we go with them. The super-widescreen film of the four seasons at North Cape is beautiful – sowing the seeds that we have to come back in winter – and the commentary in German from the old couple just behind us does not diminish the experience.
We head down the tunnel of exhibits and models showing local key historical events and out to the King's View. We gaze in awe at what should be the Arctic twilight – this is early August – but is shades of grey. There's a lightning show though, the best I've ever seen.
Then it's upstairs and a glance at the huge shop, when S notices that the heavy rain has stopped. We head out to where dozens of people have gathered round the Globe signifying the most northerly point of mainland Europe. Except that there's a peninsula a few miles west of us which is further north, and we're not actually on the mainland. Hey ho: it beats John o'Groats by a country mile and then some.
We do the photography bit: this time it's more complex because S wants a picture of us by the globe with no one else around. I point out that this is impossible, given the high volume of tourist activity around us. I force her to settle for selfies and photographs by willing tourists who have a basic working knowledge of iPhones when there are only a few other tourists around. Then the globe clears, and she gets her photographic wish. Pure luck.
She also gets the postcards. I'd said we'd have no time to buy, write and post postcards, but I was wrong. We shop for a few things, including said postcards – with short messages, they are stamped and posted to close family: 'The furthest north we'll ever be.' I work out that in October we'll be in Byron Bay, and look forward to easily-written postcards then.
As we get back on one of the coaches to head back to the ship, where we grab a midnight snack and a rum-and-hot-chocolate drink (which is a new favourite), we reflect that this excursion was quite expensive but just had to be done. And we did it. North Cape. The real Arctic. Tick.
Tromso
It's the northernmost city in Europe, it's got a university, and it's got a brewery – I've done thorough tests of their products in the past, and I like them: clean Arctic lager.
This afternoon we cruise down the wide fjord – houses all along the shore as always, and maybe not quite the vertical walls of Geiranger – to the dock. Tromso is mainly on a long island in the fjord, and we can understand why this happened. Now it's linked to either side by long high-arched bridges. We admire one, with a ship coming towards it from the other side, as we dock. An hour later we're still admiring it as we seem to be making a hash of docking. The ship coming towards us has a huge frontage and a long flat rear, like an empty articulated lorry. It comes under the bridge and has to pass our stern as we sit in the water, like a very old lady trying to park. Meanwhile, behind us is today's Hurtigruten, waiting to get past us to its dock; it gives three imperious blasts of its horn, which we later learn is normal but sounds to us like the maritime signal for 'get out of the feckin' way'.
Eventually we park and flood ashore, onto our tour bus. We will be visiting a museum and the cable car for a ride up to a scenic view. Sensibly, our guide – who, surprisingly, is not Italian – takes us to the cable car first. (We later learn that another tour was not so lucky: they do their 'panoramic' tour when the mountain is shrouded in mist, with their guide telling them all about things they can't see.) From the top of the mountain we can see the whole city, both on the island and on the banks of the mainland. Every tour has someone from the ship, and we have NH-man; he takes in the view, but spends some time on his knees photographing flowers and plants – truly dedicated.
Finally we have to take the cable car down at the time dictated by our guide. We queue on the steep stairs and watch it come up and empty. The boy driver looks at us queuing, and calmly locks the car and walks away. He reappears twenty minutes later, and we finally descend. This isn't Italian shambles, as experienced by us before; this is careful Norwegian work-patterns, where you take your tea break when it's due.
The second part of our day is round to the museum in the main part of town. As we enter, we catch sight that there is wi-fi here, so the tour of the museum – wildlife and Sami history – is spent with one eye on our iPhones, deleting emails. In the museum shop we manage to find a couple of things to buy, but in truth we're desperate: our home is awash with relics scavenged from previous Norwegian trips, and while S and I want things that are ours, it's difficult to see what we sensibly buy; she resolves to formally adopt everything at home.
Our tour of the island continues, including a trip through the university and past the gardens. I notice again the courtesy of drivers, and the network of paths (for cycles and pedestrians) that are separated from the roads (by ditches). Our guide tells us that 9% of Norwegians have diagnosed depression because of the lack of daylight in the winter, and much research is carried out to alleviate this, including the use of lamps. I suggest I need to get one to counteract my winter SAD, but S is sceptical; she suggests I should simply get out more.
Most poignantly for me is what our guide tells us about the war. Firstly, he talks about the Tirpitz. I knew all about the German pocket battleships which helped terrorise the North Sea (though I can't help but think that the U-boats must have been more efficient), and how they hid in 'Norwegian fjords'. But Tirpitz was in this fjord, just over there, and was attacked and capsized, killing over 1000 men.
But also, the king and queen of Norway fled here from Oslo to try to establish a free Norway. It lasted a few dozen days, and they were evacuated. At that time, another British ship – HMS Glorious – was around here, helping with the evacuation. It was attacked and sunk, killing almost all of the men on board. One of them was my dad's brother, Angus. I have Angus' photograph albums, dropped off with my grandfather at Greenock as Glorious sailed from the Mediterranean to Norway. It documents his tours of duties in the Med and the Far East, and shows what a wonderful experience he had – till that fateful night. It gave me some kind of physical connection to those events, close in place but separated in time.
Back at the dock, we grab some quality shopping time, piling our basket like some kind of supermarket sweep, trying to get rid of our Kroner. Then it's dinner – buffet tonight, only the two courses, and the show.
As we cruise away down the fjord, the memories are with me: that connection to my uncle, and the connections to previous visits here. All enhanced by the cocktail of the day.
Alesund
The day before Alesund was spent at sea. The sun split the sky, and it was taps-off for many of the Scots on board. Sunbeds covered the deck, and were covered with all sizes and shapes of people. We sunbathed as we crossed the Arctic Circle. Over breakfast we had talked to a couple who had done the Hurtigruten in January, 'chasing the lights', and we finally made up our minds that we had to do that, sometime. We read our books, we walked round the deck, and we went into the jacuzzi. Evening was the late dinner in the Yacht Club Restaurant. We photographed a stunning sunset, after which the sky never really got dark.
As evening came on, there was a distinct, slow roll of the ship. The captain warned us that things were going to be rough all night, and that lower decks would have their portholes deadlocked.
In actual fact, it wasn't too bad but held some dangers. If you started walking across the cabin and the ship rolled that way, you could end up smashing into the windows. In the restaurant, one lady leaned to the side to counter the roll of the ship as she walked along; unfortunately, she was looking in the mirror, so she leaned the wrong way and nearly crashed into our table.
In the morning it was still bad, but we reached the relative tranquillity of the fjord. Unfortunately, it was still very windy. There was a storm coming up the North Sea, and another one about to follow it. Our trip to Alesund was cancelled.
Some passengers got annoyed, but we were relaxed: we had other things to do – gym and beauty treatments. Not for me obviously: I got on with documenting the trip. I may dump it all onto a USB stick and drop it overboard in a plastic bottle, just in case tomorrow proves to be as bad as they say. I'm trying to recall the details of the Poseidon Adventure.
It's actually fine knowing that you've got time to reflect on the experiences, without new ones overwhelming your senses. Too often, when you return home, the memories slip away in the everyday pressures of normal life and work. So I'm finishing off this diary, and about to go through the photographs. Outside, the wind is whipping the tops of the waves into a white frenzy; the pilot boat has come alongside, and we watch the pilot jump across. Now we're heading to the open sea for the long haul back to Leith.